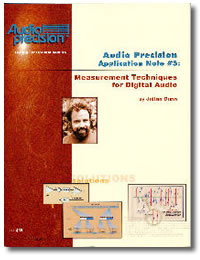 In 2001 Audio Precision, a US audio test & measurement manufacturer, asked Julian to write a book on digital audio measurement. This book quickly became a definitive resource for design engineers working in the field of digital audio the world over. In his classic tradition, the book covered the subject material in sufficient depth to be valuable to advanced readers while presenting the information in a way that a novice could grasp the concepts. The book is in its second printing in English; a Japanese translation was published in February 2004.
Measurement Techniques for Digital Audio is available from its publisher, Audio Precision. The book focuses on the measurement of digital audio signals, and examines in great detail both techniques used to evaluate the performance of the converters and the digital interface signal that carries the audio.
Chapter One, "Jitter Theory," studies the causes and effects of the interface timing variations called jitter with a number of tests designed to characterize this problem.
Chapter Two, "Analog-to-Digital Converter Measurements," looks at key ADC parameters and behavior and includes 15 AP Basic macros to run the necessary tests.
Chapter Three, "Digital-to- Analog Converter Measurements," does the same for DACs. A sidebar looks at dither. Twenty-five macros are included.
Chapter Four, "The Digital Interface," discusses the AES3/IEC60958 digital interface, examining the basic format and the means of characterizing the signal. Sidebars focus on the international standards and on synchronization considerations
Here is a PDF of the complete Table of Contents.